We provide community support, as well as vocational rehabilitation, to adults with severe and enduring mental health problems.

Our unique service is managed by MCCH Society Ltd, (a non-profit organisation with charitable status) in partnership with Surrey County Council Adults and Community Care Service.

Referrals are made via the Surrey Heath and Blackwater Valley Community Mental Health Teams.
MEET THE STAFF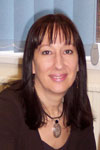 SANDY HAMPSON — Project Development Manager, MCCH
"I have overall responsibility for the service."




MARIE JOHNSON-HALL — Team Leader, MCCH.
" I am responsible for managing the service and staff."


ANNE MCMAHON — Senior Community Support Worker, MCCH.
"I work in the centre and support individuals to reach their goals and ambitions, I also help with community support and outreach."


TANITH PERRIDGE — MENTAL HEALTH ADVOCATE FACILITATOR, MCCH.
"Offers a free advocacy service for adults living in the Surrey Heath area. "